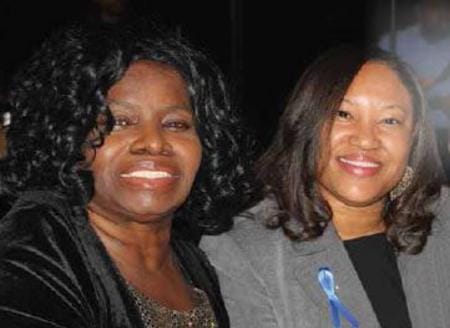 Both Jean Pollard (left) and her goddaughter, Lakhita "Nikki" Banks (right), attended the Ford Unsung Heroes Award Banquet where each received an award and recognition as Unsung Heroes for the work that they have done.
Removing Roadblocks to Our History
Jean Pollard has been making history since she was in elementary school in Texas, where she was one of only two black students in her class. From the day her highly acclaimed picture of a classmate was hardly acknowledged by her teacher, she began to experience discrimination. At 11 years old, she was too young to know the definition of the word but she now says, "I may not remember what was said, but I know how it made me feel."
As she struggled with the phonics method of reading, she was placed in a low-level reading group, even though she was bright, raising her hand eagerly to answer the teachers' questions. Again this discrimination was hurtful and Pollard acted out, resulting in several trips to the principal's office during elementary and middle school. In the 6th grade, she suffered a further blow as her newly discovered love for playing the violin was deemed to be an inappropriate waste of her time. She was abruptly transferred to a study hall.
Pollard was in high school when Dr. Martin Luther King, Jr. was assassinated, and she watched the news about this historic event on TV. Four days later, she sat at the kitchen table pouring out her feelings in a poem she titled "Road in the Sky." Many of her classmates also expressed their feelings in poems, which were published in the school newspaper. Pollard's didn't appear, and she was told that the adult sponsors of the paper weren't convinced that she had actually authored the poem. Whether teachers thought it was too good to have been written by a young child or whether it was too good to have been written by a black child, Pollard only knew how bad it made her feel. In retrospect, she is grateful that her mother encouraged her to continue writing and saved her poems so they would not be lost.
Throughout high school, Pollard continued to be frustrated by such treatment. On the day a guidance counselor told her that she was not college material and that she should find something to do with her hands, something inside her broke and she made up her mind then that she would indeed go to college. She proved the guidance counselor wrong many times over as she received a bachelor's degree as a secondary English teacher and multiple master's degrees. She continued to write, and is now a published poet.
Digging Up Buried History
Pollard led a full life as an educator, teaching in elementary, middle and high school before retiring as a middle school counselor in 2011. She prided herself on teaching the truth about history but soon discovered how far some would go to suppress the positive contributions of black people to American culture. After retiring, she saw a documentary about the building of the Alaska Highway by the U.S. Army Corps of Engineers. Fascinated by the report, Pollard tracked down Lael Morgan, who had been hired in 1989 by a major publication to write about the soldiers who built the highway and was considered an expert on the subject. While writing that article, Morgan had discovered that there were more than 4,000 black soldiers who worked on the Alaska section and that the 7,000 white Canadian soldiers only worked on the Canadian portion. Although all the soldiers endured hardships working on the highway, the white soldiers were protected from the frigid weather by heated Quonset huts while the black soldiers lived in tents with temperatures reaching 70 degrees below zero.
When Pollard finally located Morgan in Maine, she was astounded to learn that Morgan's original 1989 article about the black soldiers had not been accepted by the magazine when she submitted it. The editors did not appreciate a white woman writing such a "positive account of Negro soldiers" and both she and her boss were fired. Since she had contracted with the magazine, she was unable to publish the article elsewhere. Appalled, Pollard immediately offered to bring this historic information out, and Morgan offered her help.
At this point in her life, Pollard found herself again writing poetry about meaningful historical events. This time it was about the Alaska Highway, which the Federal Highway Administration referred to as, "The Road to Civil Rights." According to Ms. Pollard, her poem, "Two Roads to Civil Rights," about the soldiers who built the road, was close kin to her long-ago poem honoring Martin Luther King as the first to march on the road for civil rights.
As a result of her exposure to Morgan and her historic discovery, Pollard is now working under a grant to add this piece of missing Alaskan history to the Anchorage School District curriculum. Her team has also received funding from the Alaskan state legislature to erect a monument in Anchorage, honoring the African-American army engineers for their contributions during World War II. Pollard, along with Bishop Dave Thomas, started the "Alaska Highway Project" and for the next three years Thomas and Rev. Dr. Ronald Myers traveled Alaska and Canada organizing celebrations commemorating the building of the highway.
The "Alaska Highway Project" team continues to move forward, thanks to the work of Jean Pollard (coordinator & curriculum writer); Lael Morgan (resource consultant); Bishop Dave Thomas (veterans' coordinator); Shala Dobson and her husband Jim Dault (building the monument and donor wall); Russell Pounds (documentary production); Pam Orme (history coordinator); and Andrew Knoll (webmaster of www.alaskahighwayprojet.com).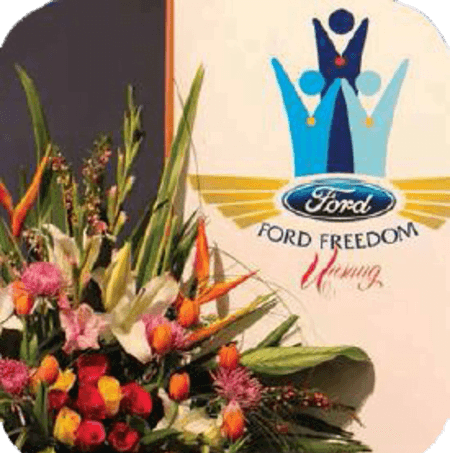 History-Making Is Rewarded
Pollard has been an educator most of her adult life and for more than 30 years, she has volunteered in her community to help kids at risk to find hope and a bright future. In 2013, she received an award from a multi-cultural group called "Bridge Builders" for "Excellence in Community Service."
This year the Ford Foundation announced that Pollard had been nominated for the Ford Freedom Unsung Heroes of Alaska Award. Although Pollard modestly denies that she was making history with this project, she continues to remove roadblocks to our history so that we may better appreciate our heritage.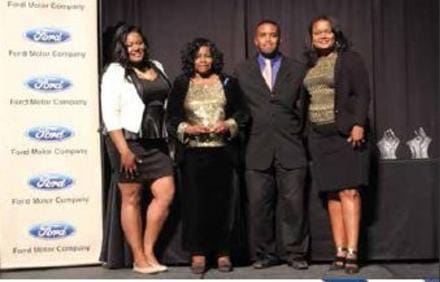 Jean Pollard (second from the left) received the Ford Freedom Unsung Heroes Award.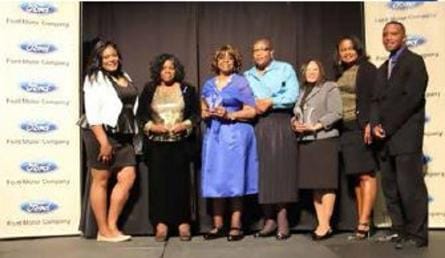 Jean Pollard and fellow recipients, including her goddaughter, Lakhita "Nikki" Banks (3rd from right).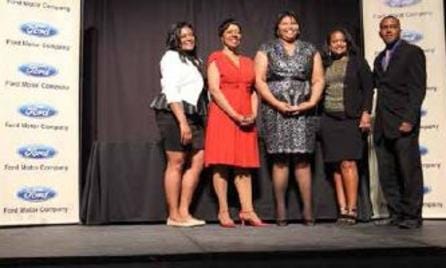 Wanda Greene-Laws,President of the Anchorage NAACP,
(2nd from left) & Ashley Gaines, Youth Assistant for the NAACP,
(3rd from right) showed their support of the Unsung Heroes.