Father and Son Broke Barriers in the U.S. Military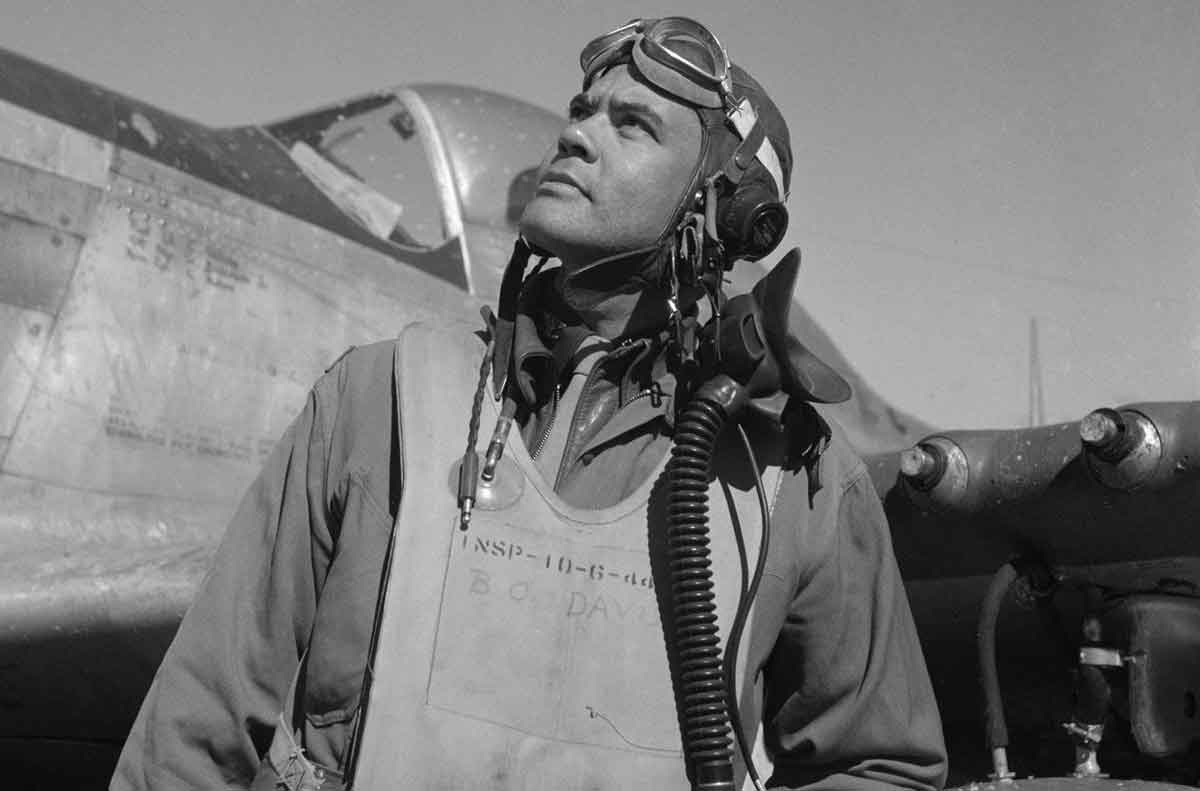 Tuskegee Airman and U.S. Air Force General Benjamin O. Davis Jr.
"Some have had to bear a heavier burden than others to teach us all what right looks like…."
When Air Force Chief of Staff Gen. David L. Goldfein spoke these words, he was honoring Benjamin O. Davis Jr., the former Tuskegee Airman who broke through the color barrier in the Air Force and achieved the rank of general in 1960—only the second Black man ever to reach that rank in our nation's history.  But Goldfein could easily have spoken those same words about Davis Jr.'s father, Benjamin O. Davis, Sr., a career Army officer who, through perseverance and determination, became the first Black general in the U.S. military in 1940.   The father and son both served their country with distinction, though for much of their careers neither could get a cup of coffee in the same café as White soldiers. Both men would be instrumental in the eventual desegregation of the U.S. military—leaving a powerful legacy that would influence generations to come.
Benjamin O. Davis Sr., the grandson of a slave, heard the call of duty as a young man in Washington, D.C..  (There is speculation that he heard that call a little earlier than he should have—Davis likely lied about his age so that he could enlist in the Army without the permission of his parents.) Davis served with the 8th United States Volunteer Infantry, an all African-American unit in 1898, during the Spanish American War, then enlisted as a private with the 9th Cavalry "Buffalo Soldiers" in Utah, protecting settlers on the Western front.  In late 1900, Davis's unit was commanded by Lieutenant Charles Young, the only African-American officer serving in the U.S. military at that time.  It was a pivotal moment for Davis—opening his eyes to what was possible for a Black man to achieve in the Army.  Young became a mentor to Davis, tutoring him in the subjects that would be covered on the officer's exam that Davis would need to pass in order to advance.  On February 2, 1901, Davis passed the exam and was commissioned a second lieutenant in the Cavalry in the Army, assigned as a supply officer in the Philippines.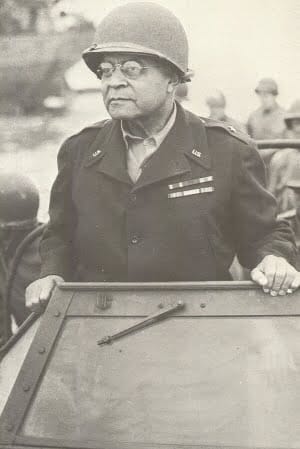 Buffalo Soldier and U.S. Army General Benjamin O. Davis Sr.
In the years that followed, he rose slowly through the ranks.  His plodding progress wasn't due to any failing as an officer—he was described as extremely capable by his superiors—but he was kept out of combat and moved around so that he would not be in command of White officers. Davis could only watch as other, less senior White officers leap-frogged over him and were fast-tracked to higher command positions.  But he was a role model for the next generation of Black officers, as he taught military science and tactics as a professor at Wilberforce University and the Tuskegee Institute. He was given full command of the  369th National Guard Infantry Regiment (better known as the Harlem Hellfighters of WWI fame) in 1938. 
During World War II, Davis Sr. headed a special unit charged with investigating discrimination and relieving the frustrations of segregated soldiers in the Army. The insights about African Americans' exclusion from combat duty contained in his 1943 report helped to lay the foundation for the integration of the military by Truman in 1948.  Though he achieved more success in the Army than any African-American before him, he endured indignities and insults due only to the color of his skin; many Whites refused to salute him or acknowledge his rank even after his promotion to brigadier general in 1940 by President Franklin D. Roosevelt.  Decorated with a Bronze Star and the Distinguished Service Medal, Brigadier General Davis retired on July 14, 1948, although his legacy would influence generations to come—including his son, Benjamin O. Davis, Jr.
The seeds of service were sown early in the Davis home.  The older Davis' shared his experiences with systemic racism with his son, but also instilled in him a fierce determination to see it abolished.  And it would take all of the determination and perseverance Davis Jr. had to overcome the prejudice that would stand in his way throughout his career.
After receiving a nomination to the U.S. Military Academy at West Point, New York (from the only Black congressman at the time), Davis would become the first Black cadet to be admitted since Reconstruction.  He was shunned by the other cadets—a punishment normally reserved for those who violate the Academy's Honor Code.  "I was to be silenced solely because the cadets did not want blacks at West Point. Their only purpose was to freeze me out," Davis wrote in his 1991 autobiography, Benjamin O. Davis, Jr.: American. "What they did not realize was that I was stubborn enough to put up with their treatment to reach the goal I had come to obtain." 
While a cadet, Davis had dreams of flying, but he was rejected by the Army Air Corps because their flight training was only open to White men. Instead, after graduating 35th in a class of 276, he was commissioned as an infantry second lieutenant.  At the time, the Army had only two Black infantry officers—Davis and his father.  To keep the younger Davis from commanding White units, his first assignment was to the all-Black 24th Infantry Regiment at Fort Benning, Georgia.
Ironically, it was the elder Davis who would send his son's military career soaring when, after Davis Sr. was promoted to brigadier general, he ordered the Air Corps to create a flying squadron for Black men. The younger Davis was called to Tuskegee Army Air Field in Alabama to attend flight school, and after receiving his pilot's wings, led the group of African-American pilots that would come to be known as the Tuskegee Airmen.
Davis deployed to the Mediterranean Theater in 1943 in command of  the 99th Fighter Squadron, flying combat missions against enemy ships and ground targets, and providing support for Allied troop landings.  The 99th Fighter Squadron merged with the 332nd Fighter Group, and Davis assumed command and deployed to Italy in 1943.  The all-Black 332nd Fighter Group flew 15,550 sorties escorting heavy bombers deep into enemy territory in the summer of 1944, and gained a reputation for excellence.  Although some White officers maintained, "the Negro type has not proper reflexes to make a first-class fighter pilot," the bravery and skill of the Tuskegee Airmen couldn't be denied.  
"All the Blacks in the segregated forces operated like they had to prove they could fly an airplane when everyone believed they were too stupid," Davis Jr. wrote in his autobiography.  Davis led dozens of missions in P-47 Thunderbolts and P-51 Mustangs. He received the Silver Star for a strafing run into Austria and the Distinguished Flying Cross for a bomber escort mission to Munich on June 9, 1944.
Davis would go on to serve in several commands, in Europe and the United States, before the end of the war. In 1947, Davis transferred to the newly created Air Force and was tapped by President Harry S. Truman to help draft the service's desegregation plan.  Benjamin O. Davis, Jr. became the first Black general officer of the United States Air Force in May 1960.  He received his fourth star 28 years after he retired, in a 1998 White House ceremony that he attended along with fellow Tuskegee Airmen.  "He earned this honor a long time ago," President Clinton said at that ceremony, calling Davis "a hero in war, a leader in peace, a pioneer for freedom, opportunity and basic human dignity."
Like his father, Benjamin O. Davis, Jr.  met racism head-on and worked for greater equality throughout his military career.  That fact was recognized In 2019, when the U.S. Air Force Academy named its airfield in honor of Davis Jr., who died in 2002, saying he was "instrumental in driving this institution towards a much more diverse and a much more inclusive population, reducing attrition rates of minorities, and crucial in developing the plan to integrate women at the United States Air Force Academy."  He was also honored in 2015, when Davis Jr.'s  name was chosen to be on a barracks at West Point.
"If you want to know what 'Duty, Honor, Country' look like, just read a little bit about Benjamin O. Davis Jr., and your jaw will drop because he is the epitome of what we want at a time when we didn't know what 'right' looked like," said Col. Ty Seidule, the head of West Point's history department at the time. "So it's our chance to acknowledge one of our greatest graduates."
Both Benjamin O. Davis Sr. and Benjamin O. Davis Jr. led by example in a system that hadn't previously afforded equal opportunities to minority servicemen and women.  The more than 54,000 Black officers in the military today stand on the shoulders of these and other trailblazers, and continue to combat the underrepresentation of minority officers in our armed forces.