1st African American Female Fighter Pilot USAF
By: SrA Justin Weaver, Courtesy of 31st Fighter Wing Public Affairs
Photos By: A1C Ashley Wood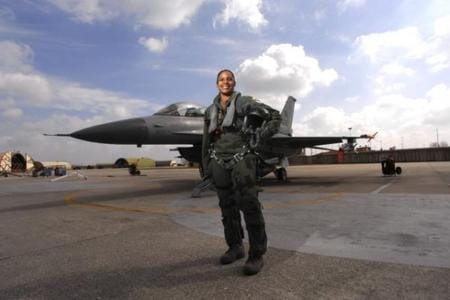 The Parker, Colorado native initially wanted to be an astronaut, but decided it would be more fun to fly a fighter jet. "I fell in love with the idea of the freedom of flying and after my first flight lesson at age 14, I never looked back," said Major Kimbrell, who is currently the flight commander of Aircrew Flight Equipment. It was that determination which led Major Kimbrell to become the first female African-American fighter pilot in the Air Force.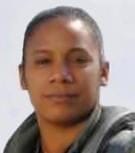 "I am still amazed that in this day and age there is still so much room for firsts especially for females and for African-Americans," Major Kimbrell said. "It is an important step for progression and although I am not fond of the spotlight I think it is important for people to know that this barrier has been breeched, especially for the African-American community and for women to know what types of opportunities are available to them." Up until only 15 years ago, piloting a multi-million dollar, multi-role F-16 combat aircraft was reserved solely for men.
"While most fourth grade girls talk about being a ballerina, veterinarian, doctor, or princess, Shawna Rochelle Kimbrell knew she wanted to take to the skies."
Then, in 1993, the Secretary of Defense permitted women to enter fighter pilot training. Although women have been entering pilot training since 1976, before 1993, government officials did not believe women had "what it took" for combat. Major Kimbrell knew she "had what it took" and after graduating from the Air Force Academy in 1998, she went on to complete intense pilot training receiving her pilot wings in August, 1999. "Pilot training was one of the best times in my life and I made some life-long friendships," Major Kimbrell said.
"For two years, every move you make is graded and scrutinized." Eager to make it as a fighter pilot in a field with a limited number of pilot slots Major Kimbrell pushed herself to constantly improve. "I was in constant competition with myself, trying to do better, to make the grade," she said. "There were times when I didn't think that I was going to make it through. It was in those times I learned to be humble and realize there is a point in everyone's struggle – no matter how strong they are — when they need help, and the key is to seek it out before it is too late."
There are more than 14,000 pilots in the U.S. Air Force — about 3,700 of those are fighter pilots. But in that group, only 70 are women. Pursuing a career in a male-dominated field was just one of several challenges Major Kimbrell had to overcome. "I was never apprehensive about pursuing my dream, despite the challenges," said Major Kimbrell. "I don't think that I actually grasped how few of us there were. Honestly it was not something that I had time to concern myself with. There was the physical challenge of not having perfect eyesight, which at one point I was told would disqualify me from flying. There are continued challenges with flight gear, uniforms, and equipment that are designed and optimized for men."
Another challenge Major Kimbrell faced throughout her career and growing up was the struggle of being an African-American woman, who at times was viewed as being different than other people. "There are still a lot of unresolved racial issues in the U.S. and they spill over into every walk of life and every workspace," said Major Kimbrell, the only female pilot stationed at Aviano Air Base.
"When I go somewhere new, people tend to look at me differently, mostly because of who I am and it is the subtle ways that people treat me differently that make it challenging. The unfortunate fact is that being a black woman is a constant struggle."Dealing with that bias, whether malicious or not, has caused Major Kimbrell to try even harder to succeed in life. "I have made it to this point in my life by setting goals and being determined to meet them no matter how long it takes," she said.
"At the end of the day, if I have put forth the maximum effort, I can live with myself and that is one of the most important parts of this struggle." Throttling through those challenges became worthwhile when Major Kimbrell received her first operational assignment to Misawa Air Base, Japan. "The turning point in my career was when I arrived at Misawa. It was like a whole new world of options opened up to me," she said. "I flew my first combat sortie in 2001 in Operation Northern Watch. The sorties were actually anticlimactic until I recognized that people were actually shooting at us."
The most recent and as yet unresolved challenge is how having a baby and raising a family fits in with her career progression. "The real turning point in my life was when I gave birth to my son in August of 2006," she said. "On that day my life took on an amazing new meaning." Making the decision to have a baby could have been career-ending for Major Kimbrell. For safety reasons, women pilots can no longer fly once they become pregnant. They are kept out of the cockpit for nine months, plus recovery time.
"When a pilot is out of the jet for that amount of time a significant amount of retraining is required and it normally takes place outside of the squadron, back at the school house," said Major Kimbrell. "This has the potential to be detrimental to a woman's progression and continues to be a challenge for myself and other women fighter pilots." Finding that balance between career and family is something Major Kimbrell strives for, and she credits the lessons she's learned from both aspects as defining who she is.
"While being a fighter pilot is exhilarating, I would not say that it defines me, I would say that is has refined me. I continue to learn and improve and it has really taught me to strive for perfection in everything that I do. It has taught me that sometimes you fall short of your goals but there is never a time to give up."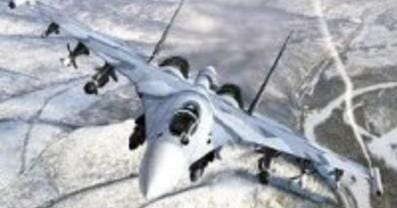 Female fighter pilots in the military have recently created a Website to help bring together and strengthen the camaraderie of women pilots. The "Chick Fighter Pilot Association," www.fighterchicks.com, has three goals: Encourage and strengthen mutual support in our unique environment, help each other succeed, and provide a professional and social network for women in fighter roles. "It is very important that we have an open line of communication among the women of this community because there are certain daily challenges that we face that should not have to be tackled by each of us separately," said Major Kimbrell.
Major Kimbrell has flown the F-16, T-38, T-37 and T-3 and has logged more than 945 flying hours in the F-16, including 176 combat hours. Her military decorations include the Air Medal with one device, Aerial Achievement Medal, Air Force Commendation Medal with one device, Army Commendation Medal, National Defense Service Medal, Armed Forces Expeditionary Medal, Iraq Campaign Medal, Global War on Terrorism Service Medal, and the Korean Defense Service Medal.